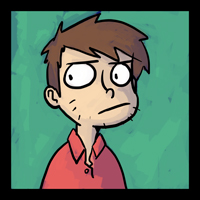 MATTHEW PALMER
A tabletop gaming aficionado with a love of space marines and magical schoolgirls. Matt has recently returned home from an overseas trip on an Air Force Haiti relief tour, only to be dropped back into his boring, pitiful life. Now, he struggles to find his place in the world as he tries to escape his parents and plays lackey to his old highschool friend, Dan. Likes to dramatically narrate his life.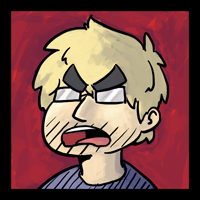 DANIEL FOREMAN
A flamboyant and charismatic hardcore gamer, Dan is eager to please but easy to frustrate. Dan lives an undeniably fabulous life sharing an apartment with Kim and Rinnie, and aspires to one day work as a video game journalist. However, aspiring is all he really does. Where Dan works is a question that only Kim knows the answer to. Throws punches at the first sign of danger.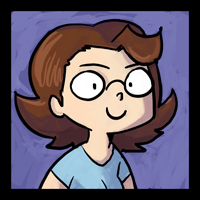 KIMBERLY ADLER
A tiny little bundle of cute, Kim spends most of her time with her adorable button nose buried in books. Much to Kim's delight, she is currently employed at a local bookstore where she makes coffee and flails excitedly at customers. She's blindly devoted to Dan, torn between Ash and Rinnie, and one day wants to write a mystery novel of some sort if she can settle on a single idea.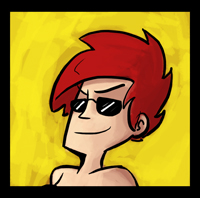 ERIN "RINNIE" WILHELM
An eccentric slacker and comic book expert who's a little too secure in her questionable sexuality. A continual source of disappointment to her parents, Rinnie set sail for more hipster-friendly seas, and settled for docking at Kim's place. Rinnie likes cooking, investigating the paranormal, and writing horrible smutfiction. Hates job hunting. Slightly more useless than she thinks.
ASHLEIGH HICKS
A lonely otaku princess imprisoned inside a mysterious trailer by her evil stepmother. Ash has absolutely no people skills and spends all of her time locked away inside the internet. Moderately popular within her Deviantartist circle. She's easily flustered and quick to attack anyone who dare insult her favorite anime. Would love to be a self-published artist, but is afraid people might think she's a weirdo. They do.
DERRICK DOMINIQUE
One half of a dynamic duo. Derrick is kind of clumsy and awkward, but makes up for it by being REALLY good at Beatmania. He's known Hai since his early childhood, and met Dan/Matt sometime in high school. Comes from a moderately wealthy family, so he's highly concerned with his material goods. Would one day like to play music as well as he can in video games. Dropped $200 on a bass guitar he'll never play.
HAI WU
Derrick's partner in crime. Stylin' and profilin', but not much better than Derrick at picking up chicks. A smooth operator, but also a bit of a leech. Likes borrowing money, hates paying it back. Always fussing about his clothes and hair. Fond of fighting games. Would like nothing more in life than to do nothing. He's that asshole who hogs the Dance Dance Revolution machine at the arcade playing nothing but that stupid butterfly song on hard mode.
RIKKI
Kim's new pet ferret. Eats ferret chow. Runs into walls a lot. Kinda stupid, but it's a ferret.